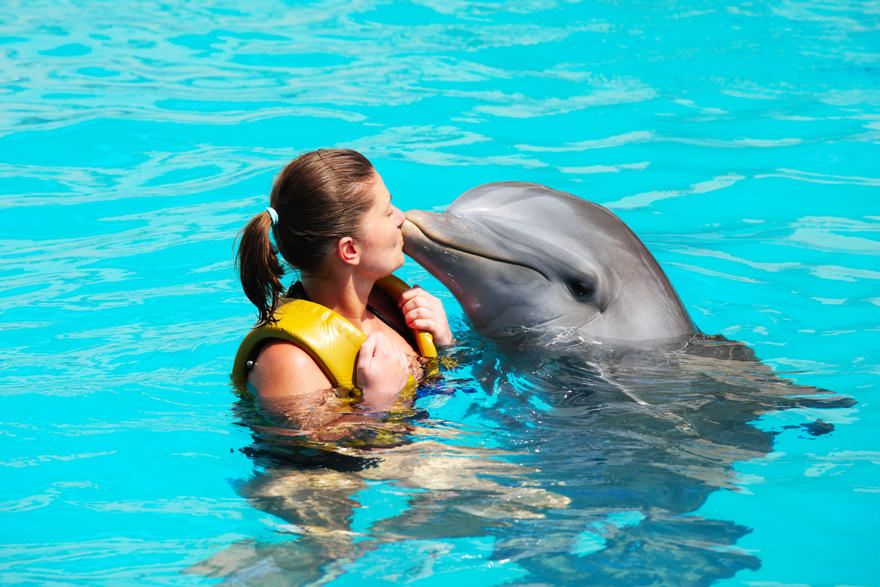 19 May

Swimming with Dolphins in Punta Cana
Swimming with Dolphins in Punta Cana
Can you imagine the sensation of swimming next to one of the most intelligent mammals on the planet? In Punta Cana, you can make your dreams come true and experience one of the most wonderful moments of your holidays. Enjoy a fun and exciting experience with the best memory you could ever wish for: swimming with dolphins in Punta Cana. 
Known for having a mixture of amazing strength and friendliness, with the cheerful dolphins you'll be able to enjoy going swimming and doing acrobatics with them in a heavenly setting like the Caribbean Sea. Get ready to feel a connection with a mammal you'll share a habitat with and with whom you'll form a special bond that should be experienced at least once in a lifetime. 
Swimming with dolphins is an activity suitable for all kinds of people. It's a wonderful plan to enjoy with family and children, since you don't need to know how to swim to participate in this experience; or you can do it with friends. If you're preparing a trip, you should take note of the best activities to do in Punta Cana with friends, which will guarantee your days are full of excitement, entertainment, adventure and relaxation.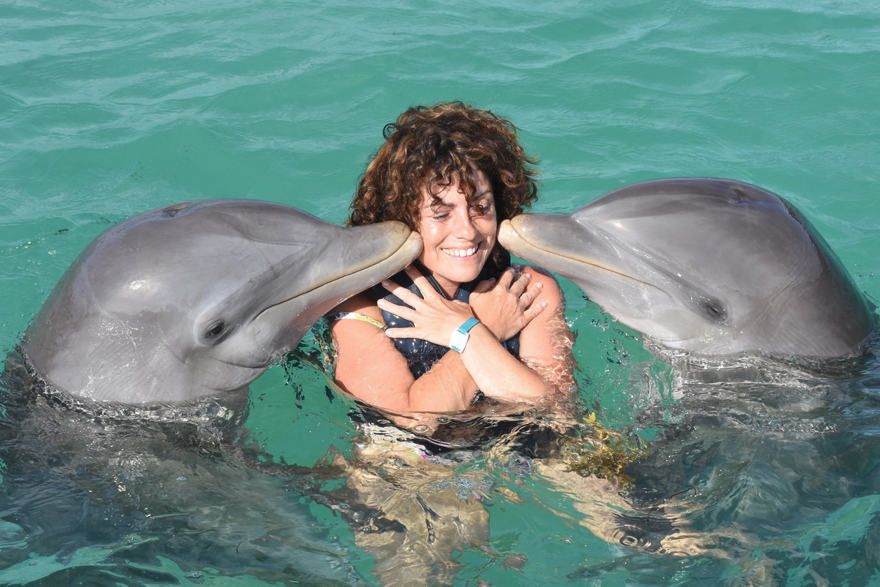 What safety measures should we take into account? 
To make your experience safe, you should always listen carefully to the instructional talks given by the trainers, as well as the required safety measures that guarantee both you and the animal are protected. To make the encounter magical, you'll learn about their physiology, way of life, care and training, lessons that you'll later put into practice when it comes time to interact with the dolphins. 
Dolphins are delicate animals and should be treated with respect. When it's time to play, they'll faithfully follow the signs given by their trainer, who will tell them when it's okay to approach and interact with you. The memory will be forever engrained in your mind and will be a truly unique experience, during which you'll have to leave behind any camera or mobile phone. You're also not allowed to wear necklaces, bracelets, hats or any accessory that could come off the body during the activity, so you'll have to make sure to leave them in a safe place before jumping into the water. 
Punta Cana is an exceptional destination that offers a paradisiacal environment. Our duty is to protect and take care of it so that its natural habitat is preserved so it can continue to welcome thousands of tourists, without losing any of its charm. As a result, in order to avoid altering the habitat in any way, the use of sun creams or chemicals is not allowed.

Dolphins in Punta Cana
Thanks to their sensory apparatus, response modes and the nature of their cognition, dolphins are truly unique animals. With a notably social character, they always live in family groups that can reach up to 1,000 members and their dedication can be seen in the way they support and care for injured or sick members.  
The places they choose to inhabit always have enough food and are located in areas near the coast. This makes it so they are accustomed to the sight of humans and interaction with them is safe as long as it is controlled.   
One characteristic that defines them is their vocal ability, since they make a wide range of sounds using their nasal cavities. The sounds that we can hear when singing can be whistles and clicks, the latter of which is used for the species' echolocation. 
Echolocation is a skill that allows them to find submerged objects and has led them to become the kings of underwater searches. Emitting these sounds allows them to obtain information about their environment after analysing the received echo. Thanks to their unique sensory system in the water, the collected data provides them with an extremely precise location.

The Caribbean Sea, a perfect environment
The Caribbean Sea is the habitat of choice for up to thirty species of marine mammals, including whales, dolphins, manatees and seals. This makes it a magnificent enclave for practicing sports, relaxing in the water or spotting majestic animals just off the coast. 
Among the species most frequently seen are the humpback whale, pilot whales, sperm whales and spotted dolphins, bottlenose dolphins and spinner dolphins, in addition to the West Indian manatee. Although they don't live in the Caribbean, in the last decade there have been up to eight annual sightings of hooded seals, native to Canada and Greenland. 
There are many species that make up the Delphinidae family of dolphins that can be seen in the Caribbean. The Guiana dolphin, rough-toothed dolphin, Clymene dolphin or Fraser's dolphin are just a few of them, although the long-beaked common dolphin is usually chosen for activities that involving swimming and playing with this species.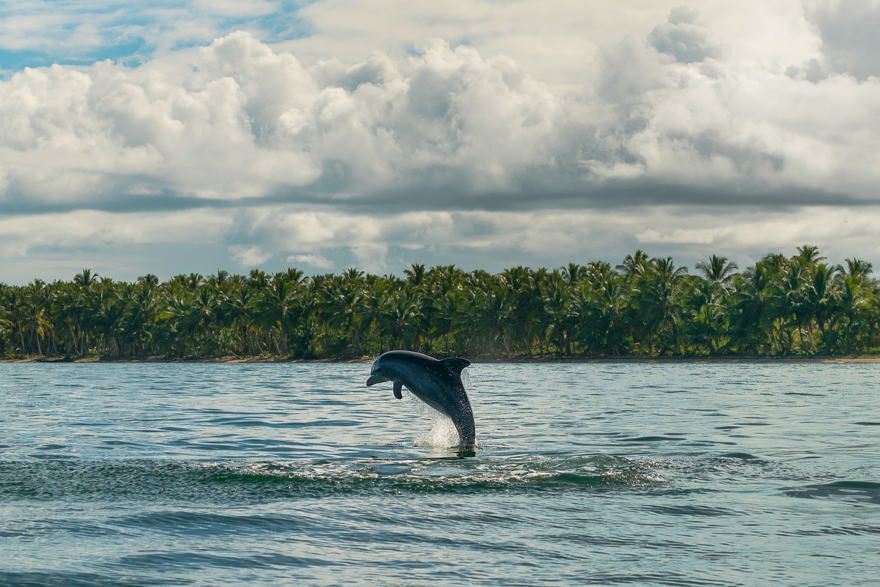 Are you ready to make your dream of swimming with dolphins come true?