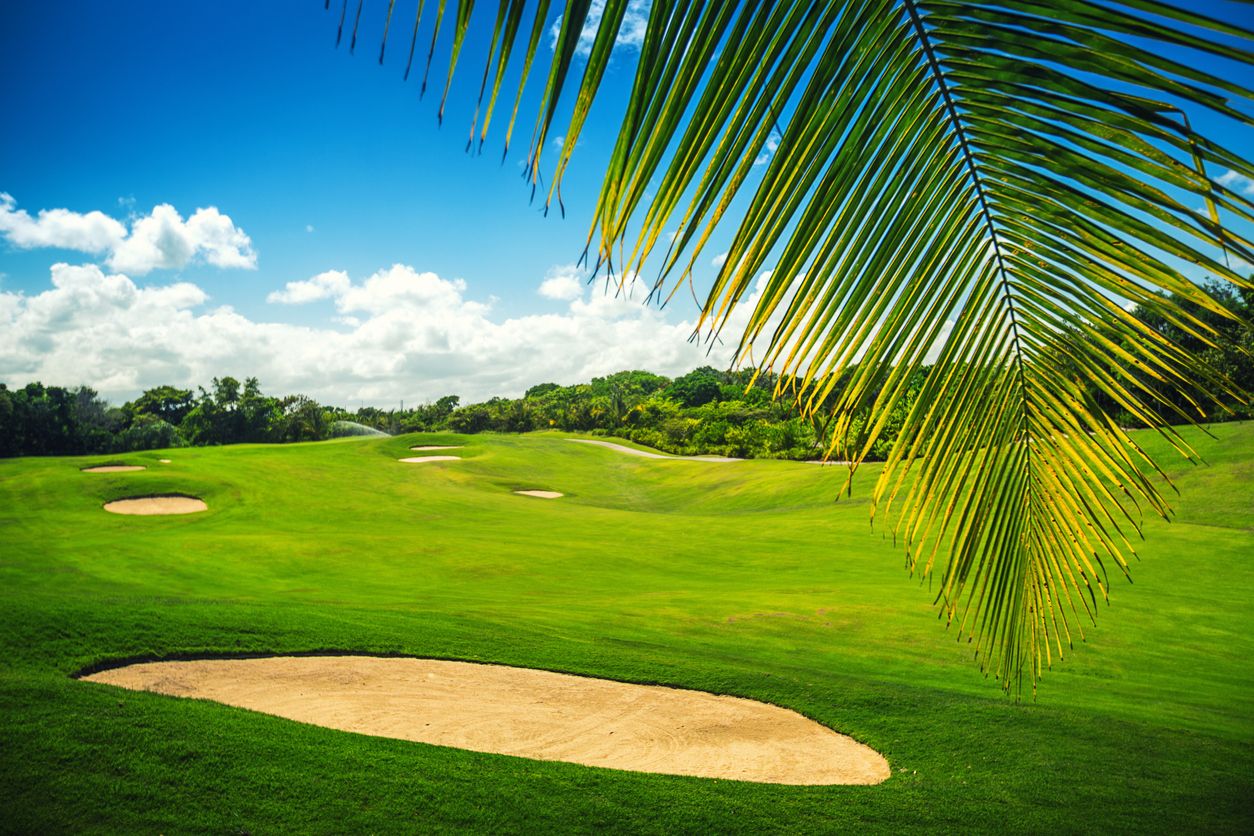 30 Apr

Playing Golf in Punta Cana
Playing Golf in Punta Cana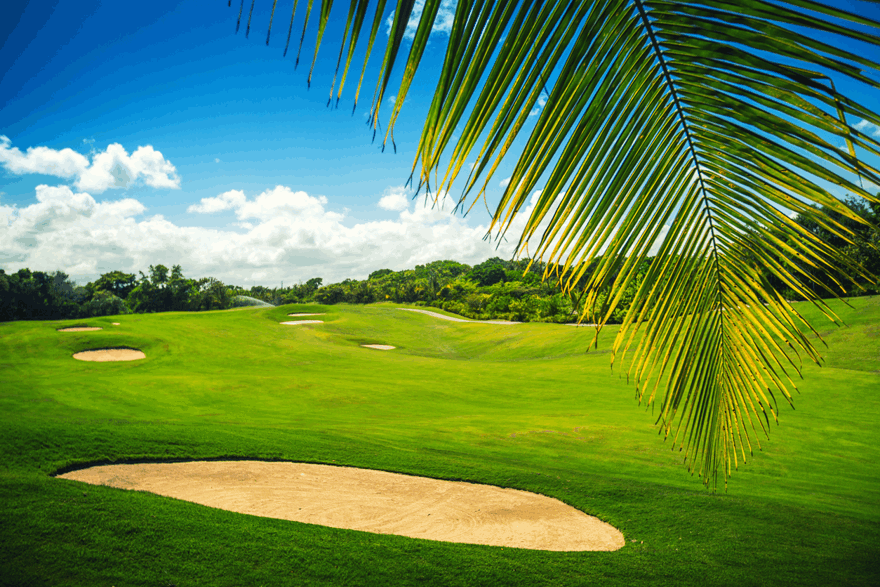 Playing golf in Punta Cana is an experience that everyone who loves this sport has to partake in at least once in their life. The Dominican Republic is an indisputable destination for any golf player, whether professional or recreational, since the country has the best golf courses in the Caribbean and Latin America. A total of 86 holes with views of the seas and 39 right by the ocean to enjoy the Dominican coasts from all angles.
Renowned architects such as Pete Dye, Robert Trent Jones Sr., Tom Frazio, Nick Faldo, Nick Price, Jack Nicklaus and Greg Norman are just a few of the people who have been in charge of designing first-class golf courses across the country. In fact, nine of the best courses in Latin America were listed in the Top 50 golf courses in the Caribbean and Latin America in 2010, according to Golfweek magazine. 
The characteristics of the country and Punta Cana make its courses the perfect setting for any golfer who decides to play here. Their daring and unique designs combined with the sea views and exotic nature make each match incredibly special. Golf enthusiasts choose Punta Cana knowing that an exceptional climate will accompany them all year round and that they will be able to practice many other sports, such as snorkelling at Playa Bávaro, as a way of complementing their trip.
You don't need to be a golf professional to enjoy this sport in Punta Cana. Regardless of whether you have played before or if you want to try your hand at it for the first time, today we are going to review the country from north to south and east to west to discover what its regions hide.

Eastern Region: Punta Cana and Bávaro 
Serious golfers will find this country to be extremely attractive. The Punta Cana, Bávaro and Cap Cana region occupies the east coast of the Dominican Republic and is the preferred destinations for players seeking a luxurious and relaxing experience on exceptional courses. The "Golf Mecca of the Caribbean" offers the largest selection of world-class golf courses, more than a dozen of them with great designs, which have been visited by experienced players throughout history.
You will enjoy the best beaches in the world, the shining sun and greens that will delight anyone who is passionate about this magical sport. You will get to play on courses that have hosted memorable tournaments and are proud of challenging the thousands of visitors like you that visit them throughout the year.
Southeast Region: La Romana 
The Dominican Republic is characterised by its picturesque beaches, its exciting attractions and its elegant resorts, but in this region on the southeast coast, there is also a hidden gem designed by the Dye family. 
Immersed in the luxury that characterises La Romana are some of the best courses in the world. The challenges faced by players who choose these golf courses are surprising, daring and a lot of fun. La Romana, which was formerly a sugar production region, combines exotic islets, incredible national parks and turquoise beaches to create a privileged environment where you can enjoy golf. A total of five courses await you that leave no detail to the imagination, with memorable fairways for everyone who visits them.

South-Central Region: Santo Domingo and Juan Dolio
Santo Domingo is the protagonist of the southern coast of the Dominican Republic. The city, capital of the country, was declared the American Capital of Culture 2010 and is home to numerous world-famous golf courses. This metropolis and its lively culture welcomes this sport that has been gaining popularity in the southern part of the country.
Santo Domingo is the ideal place for those looking for a sophisticated, modern environment combined with an important cultural and historical component, which allows you to discover the history behind this memorable place. An energetic city that's perfect for resting after a long round of golf and that's located very close to the magical enclave of Juan Dolio.
The small town of Juan Dolio, belonging to the municipality of Guayacanes, has experienced strong growth in recent years and its selection of leisure activities attracts the numerous tourists who visit it every year. As for the nature in the surrounding area, there is a beautiful beach with ten kilometres of white sand that grabs the attention of all visitors.

Central Region: Santiago, Jarabacoa and Bonao
Santiago is the second most important city in the Dominican Republic after its capital, Santo Domingo. Thanks to its location in the centre of the country, it has earned the affectionate nickname of "heart city", and in its surrounding area is a natural paradise that delights all golfers who come to this region.
Although its selection of golf courses is much more limited than that of the previous regions, Santiago is a tapestry made up of abundant vegetation, fertile valleys and large mountains. A landscape that will allow you to immerse yourself in a game that you'll never forget.
Jarabacoa is the second city in this central region that offers various alternatives for those who love this sport. Known as the city of "eternal spring", it has one of the best courses in this Dominican area and where visitors can taste some of the region's authentic indigenous treasures such as exotic fruits and cocoa. 
Although Bonao has historically been conceived as a city of passage due to its location halfway between Santiago and Santo Domingo, its natural beauty makes this spot a must-see for golf and nature enthusiasts alike. The trails of the Blanco River, the Saltos de Jima waterfalls and traditional museums such as the Cándido Bidó and Tiburcio put the finishing touch on an action-packed agenda for a few exciting days in the central area of the Dominican Republic. 

Northern Region: Puerto Plata and Río San Juan
Just because it's the last region we're going to mention doesn't mean it's any less important. Plans that involve the sun and the beach, nature outings and its many water sports are complemented by two real gems for any golfer.  
The northern region of the Dominican Republic was chosen by the architect Robert Trent Jones Sr. to design the Playa Dorada Golf Club and Playa Grande Golf Course. A spectacular landscape made up of the imposing mountains and the golden sand along the more than 160 kilometres of coastline, which accompanies the golfer with every swing. 
Puerto Plata and Río San Juan not only offer these two majestic golf courses. There are also exotic waterfalls, endless kilometres of beaches and the social and cultural life of its people, in which merengue music plays a leading role, ensuring your visit is truly unforgettable. 
Spanning across 48,448 square kilometres, the Dominican Republic is an essential location for any golf lover. Do you already have an idea of which region you'll be visiting to play a round of golf when you visit the Dominican Republic?