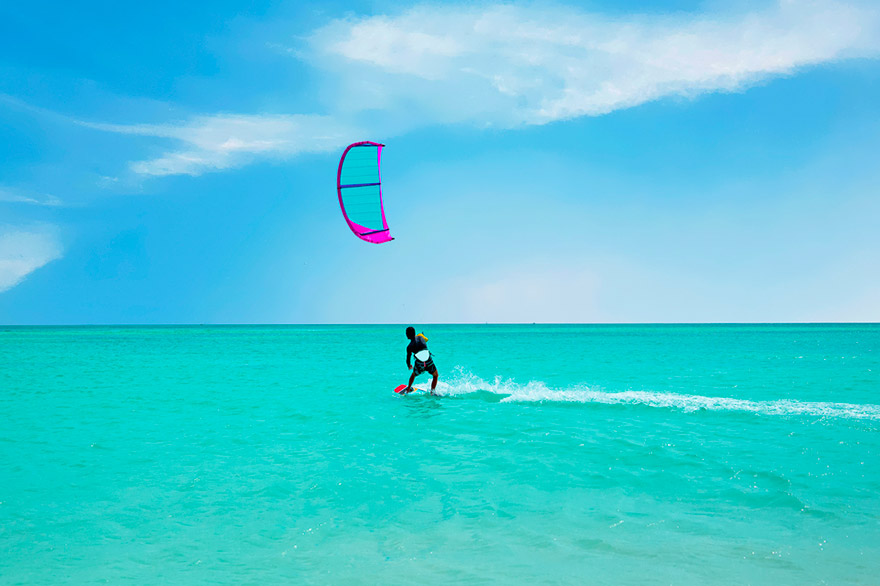 20 Jul

Kitesurfing in Punta Cana
Kitesurfing in Punta Cana
If we think of dreamy tropical destinations, we imagine impressive beaches, full of palm groves and white sand, lapped by clear waters and turquoise seas.
Not only can we get some much-needed rest and relaxation in a place like this, but we can also try to learn new sports or go on adventures that we had never thought of before.
One of the best destinations for practising water sports is, without a doubt, Punta Cana. Its beaches with fine sand and turquoise waters invite you to sit back and enjoy not only its pleasant climate throughout the year, but also the wide range of activities you can find here. This will give your holidays that extra shot of fun and adventure that you've been looking for.
Those who visit Punta Cana are not only looking for a place where they can relax, but they also want to discover incredible spots and try their hand at new experiences. Water sports such as diving, snorkelling or kitesurfing are the most popular.

WHAT IS KITESURFING?
We've all heard of windsurfing or stand up paddleboarding, but kitesurfing is another type of water activity that you have to try if you enjoy the sea, the wind and adrenaline. 
The main difference between one and the other is the equipment used, although they are all derived from surfing. In each one a different element is added that propels the board and the sail forward. In the case of kitesurfing, it is a kite or a paraglider that allows the board to be pushed through the water.
The wind glides you over the water propelled by a kite or paraglider that is attached to your body by a harness, allowing you to surf the waves and do tricks in the air.
To try your hand at this sport, it's best to take kitesurfing lessons at one of the schools that you'll find in Punta Cana, where you'll find many options. 
These schools offer courses for all levels. The most experienced will be able to perfect their skills and those who are new to this sport will get to try something new that they'll most likely be dying to repeat.
If you want to practice or get started in this sport, you must choose a beach that has favourable conditions for doing so. Consistent wind and shallow waters are some of the characteristics that you must take into account. 
The most experienced kite surfers, who know the best places, usually head to the north of the island of Hispaniola, in the Dominican Republic. In addition to the beauty of its landscapes, it also has beaches with fine white sand and regular winds that are less strong than in other areas, ranging from 10 to 20 knots, making it the ideal place to practice this sport.  

PRACTICE KITESURFING IN LAS TERRENAS
We also recommend practising kitesurfing in Las Terrenas, located in the northeast of the Dominican Republic on the Samaná peninsula. 
Las Terrenas is an ideal place for this exciting activity due to its unbeatable conditions. There you can find different schools where, with the help of an instructor, they will help you get started in this sport or perfect your technique if you've already had the opportunity to practice it. 
You can go to Playa Poppi in Las Terrenas, a place that stands out for the beauty of its wide beaches and crystal clear waters, and which has the best conditions for practising this and other water activities such as snorkelling or scuba diving. 

LEARN TO KITESURF IN PUNTA CANA
There are so many destinations that the Dominican Republic can offer you if you're looking to practise adventure sports or water activities. In fact, the number of specialised schools along its coasts have multiplied, where you can perfect your technique or try this sport for this first time.
The area of Punta Cana is another of the most popular and attractive destinations for planning your holidays, which you can complement with some of the best activities.
Not only does it have the best resorts and hotels like the Lopesan Costa Bávaro, but you can also find the aquatic experiences you are looking for.
Practising kitesurfing in Punta Cana will be an exciting adventure. There you'll find certified schools with the best material and which have the most experienced instructors and professionals who will allow you to enjoy kitesurfing in a safe environment. 
This opportunity isn't to be missed!