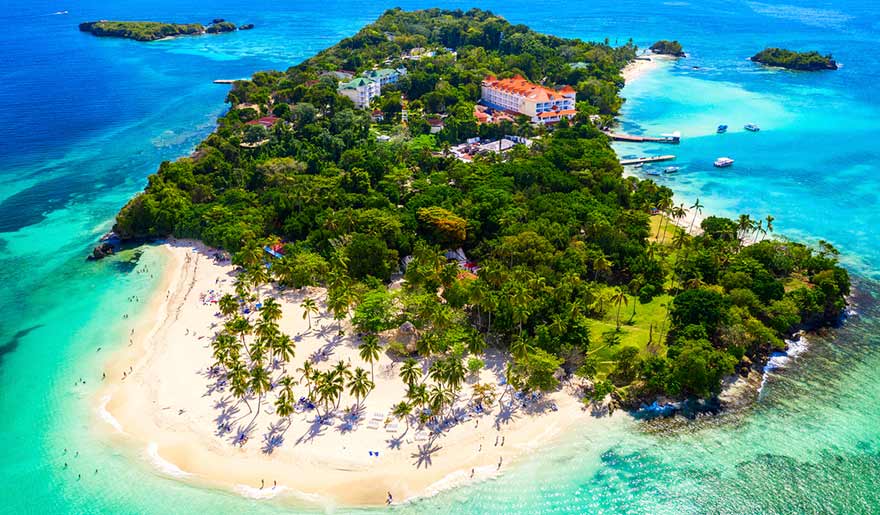 30 Mar

Discover Cayo Levantado

If there was ever a place on earth similar to paradise, how could it not be located in the Dominican Republic? That's precisely how Cayo Levantado is known, which is also popularly referred to as Bacardi Island. It's an islet located in the Samaná area, in the northeast of the Dominican Republic. Specifically, it is located across from the Bay of Samaná in one of the most incredible regions of the country.

This island is one of the best known places in the Dominican Republic for having been the filming location of several advertisements, meaning people easily associate it with the idea of incredible holidays and it is recognised for having some of the best beaches in Punta Cana.
HOW TO GET TO CAYO LEVANTADO IN SAMANÁ
There are several ways to get to the island depending on where you are.
You can hire a boat service that leaves from the town of Samaná, at the Simi Baez pier. From here the journey usually takes about a quarter of an hour. The boats leave at all times of day, so you can make the most of your time on the island.
You can also book an organised tour, many of which include a visit to Cayo Levantado and sometimes transportation is covered by the tour. Keep in mind that, in this case, your visit to the island will be limited to the duration of the tour.
Another option is to buy a day pass. They typically include lunch on the island as well as round-trip catamaran trips.
WHAT TO DO AT THE CAYO LEVANTADO BEACH
The most important thing to do in Cayo Levantado is to enjoy yourself. It may seem like a no-brainer, but the time you spend here will be so incredible that it will go by very quickly and you have to make sure you enjoy it to the fullest.
As soon as you arrive, you will immediately feel that you are in a place unlike any other in the world. It's incredible how there can be so much beauty on such a small island. The first thing to draw your attention will be the exuberant and varied vegetation. The colour green is without a doubt the colour that defines the island. Its incredible coconut trees will give you that vision of paradise that we are so used to and will become the perfect setting for taking that iconic picture to take back home with you as a souvenir from your trip to the Dominican Republic.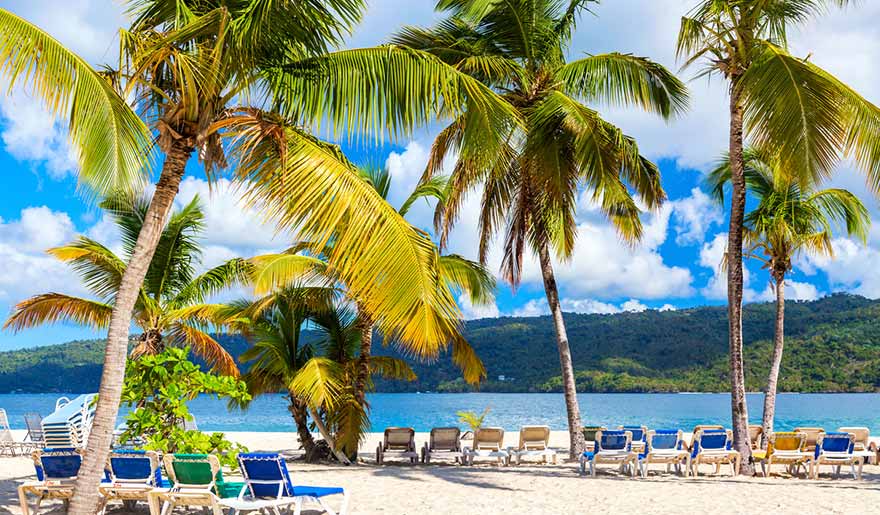 But not everything on the island is green, with this colour contrasting against the gold of its fine sand. Walking along its beaches is truly a pleasure, a massage for your feet in an unbeatable setting. In addition, the striking turquoise colour of the water that bathes the shore will make it practically impossible for you to resist going for a dip at any time of year, since it's not every day that you have the opportunity to cool off in a slice of paradise on earth.
Of course, on these beaches you'll find sunbeds to relax on and the classic beach bars where you can freshen up with a cold drink as you try some of the island's culinary delights. If you like water activities, here you can also do water sports or simply go snorkelling and enjoy the underwater landscape from up above.
But that's not all. At Cayo Levantado, every minute you'll get to discover something new. For example, from here you can see humpback whales, a unique spectacle that will be one of the best memories of your holidays for you and your little ones. This species of whale is usually in the area between the months of January and March, so if you are going to organise your holidays around these dates, it's very important that you take it into account when planning your getaway to Cayo Levantado so that you can enjoy this amazing feat of nature.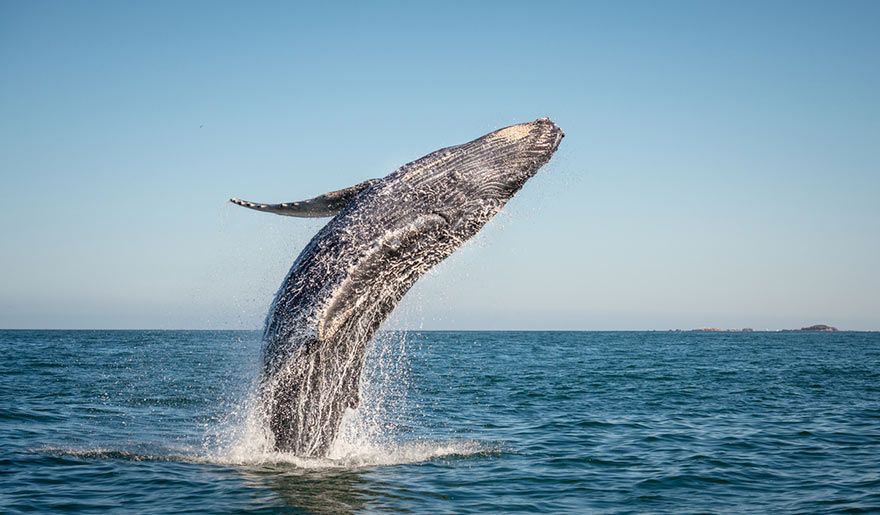 THE HISTORY OF CAYO LEVANTADO ISLAND
But Cayo Levantado isn't only nature in its purest form, but history as well. Because it is precisely this beach where Christopher Columbus first arrived and took his first steps on American soil. A momentous occasion in the history of mankind. And not just him, but other pirates and corsairs have arrived here throughout history, who decided to pass through the island during their endless voyages across the high seas, such as the pirate Francis Drake who attacked and burned down the city of Santo Domingo in 1586. In addition, in 1690 the English corsair Jack Banister rebelled or "rose up" (the name for this verb in Spanish is "levantar") against his people, hence the name of the island Cayo Levantado was born. As you can see, knowing about the historical moments that took place on this island will allow you to feel a greater connection when you explore it as you imagine what it may have been like in the past.
As you can see, Cayo Levantado is one of the many spots in Punta Cana that has a special appeal, earning it a place on the ranking of the best beaches in the Dominican Republic in 2022, and making it worthwhile to organise your holidays so that you visit it along with other outstanding places that you can find in our Complete Guide to Tourism in the Dominican Republic.